There's nothing better than some sunshine, fresh air, and a little breeze through your hair!  From infancy to old age, spending time outdoors is essential for our mind, body and soul.  Enjoying nature's beauty and being outdoors has long been shown to improve our physical health and overall wellbeing. This explains why those who spend more time outside record better health, quicker recovery from injuries, and live generally longer lives.
Aside from the physical benefits, participating in outdoor recreation is a sure way to boost your mood and avoid feelings of anxiety, depression and stress. While spending time in the sun, you are also acquiring vitamin D, which keeps your bones and immune system in optimal health to ward off illness and disease.
Regardless of your needs, there are a multitude of outdoor activities that accommodate all levels of physical comfort.  So whether you're an avid tennis player or just enjoy the occasional game of corn hole, there are plenty of activities you can partake in.
Gardening
You can never go wrong with gardening!  Depending on your capabilities and level of comfort, you can opt for a container garden which is relatively easy to tend to, or a full-scale garden which requires more time and labor.  Nurturing your green thumb can go a long way in boosting your wellbeing as it allows you to be active while appreciating and connecting with nature.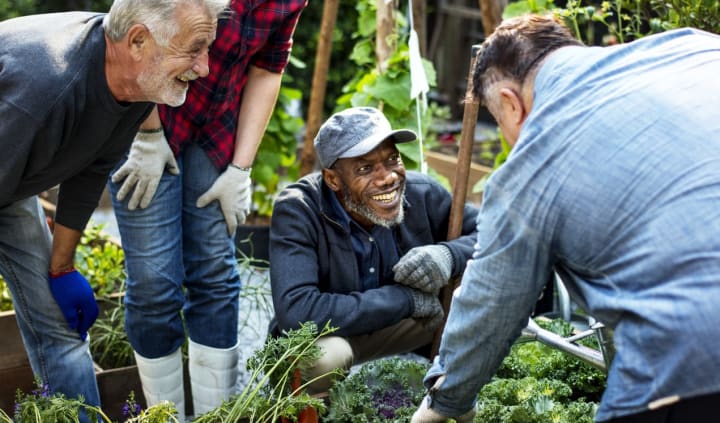 Walking
Simple yet effective, this low-impact exercise works wonders. Whether a hike or a quick tour around the block, going for a walk can increase strength, mobility, and flexibility. Walking can also have a restorative and calming effect that is essential for our mental and psychological wellbeing. Additionally, it is a great way to enjoy the fresh air and interact with your environment.
If mobility issues challenge you from getting outside, we encourage you to find solutions that don't pose a threat to your safety.  Ask for assistance if needed and walk with company when possible.  Walks are always better with friends!
Fishing
Fishing is a fun way to pass the time and revel in the great outdoors.  It requires focus, detail and patience, which means it also supports good cognitive health and function. Although the activity itself is quite relaxing, the set-up and surroundings can be a bit more demanding, so enjoy this hobby safely and within the company of others when needed.
Bird-Watching
Bird-watching can be an ideal hobby for those with an active lifestyle, as they can go for long hikes and explore the abundance of nature.  For those with limited physical mobility, sitting in the backyard and studying bird behavior and characteristics is a fine alternative. Either way, bird-watching is no doubt a wonderful way to reflect and connect with nature.
Swimming/Water Aerobics
Swimming/water aerobics is enjoyable and effective for strengthening muscles and alleviating joint problems. It's also great for ensuring that the knees and ankles are strong enough to support their body weight. As somewhat physically demanding, this activity helps keeping our weight in check while reducing the risk of high blood pressure, heart complications, and other cardiovascular ailments.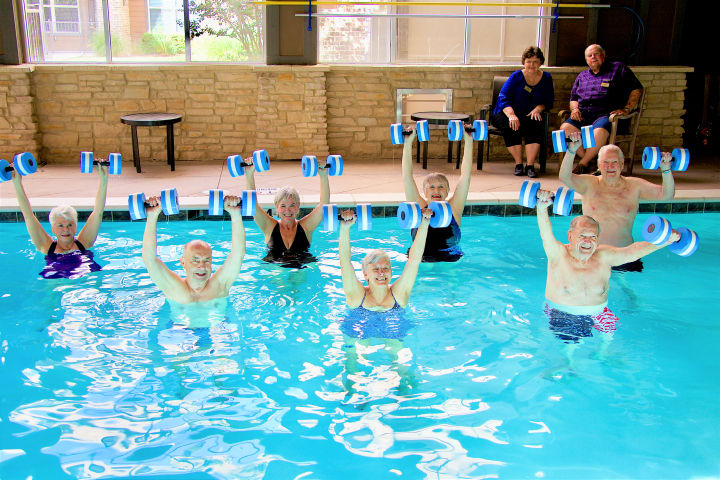 Picnicking
A favorite pastime of many, going out for a picnic is a great way to spend time with loved ones as you soak up the sun, enjoy the company and fresh air. Picnicking does not have to be complicated.  It can be as simple as sharing a meal in an outside courtyard or patio, so long as your able to enjoy the sensory experience of dining outdoors. For added entertainment, you can organize soft sports like corn hole, dominoes or checkers to be played during the picnic.
Playing Outdoor Games
Speaking of soft sports, it's no surprise that those who engage in any sport tend to report better physical and mental health. There are several activities which are ideal for older adults including badminton, bean bags, horseshoes, miniature golf, bocce ball, and croquet just to name a few!  We encourage you to channel your competitive side and participate in these low to mid-impact games when given the opportunity.  You will be happy you did!
Fruit-Picking
Have you ever been fruit or berry picking? If not, you're missing out on another enjoyable pastime of many! This activity is more accessible that you might think, and is a form of mild exercise that can help to strengthen the joints while keeping the mind active. If you happen to occupy the time and passion, you can even harvest a small berry patch to enjoy all year long.
Photography
A favorite hobby of many, photography is a good reason to go out and explore. Capturing beauty of nature through a lens can be a creative way to deter stress, enhance artistry and make lasting memories.
These are just a few examples of outdoor activities that you can enjoy by yourself or with family and friends. Spending time outside is a sure way to improve physical, mental, and psychological health to achieve happiness and fulfillment in your older years!  Don't hesitate to spend a few hours outdoors and have a little fun in the sun - the benefits are bountiful, and will keep you at your best!
We provide a variety of recreational outdoor spaces for our residents to enjoy.  Contact us to discover what innovative amenities and programs are offered for your pleasure and wellbeing.