The end of a decade always seems to be a bittersweet time.  A new decade provides us with the opportunity to look back at time through a larger lens.  We reflect on the many years which have passed, while looking forward to years which are yet to come. 
Nevertheless, our society has changed drastically in the last ten years – and it's evident in every aspect of our lives.  The growth of technology has fundamentally changed the way we perform simple tasks, and because of these rapid innovations, it can be difficult to keep up in our ever-changing world! 
In the last ten years, social media went from a casual fad to completely revolutionizing human interaction.  Vehicles are now powered by electricity and are capable of driving themselves; Amazon can deliver virtually anything to your doorstep in less than 48 hours; and smartphones are now more powerful than the computer NASA once used to put Apollo 11 on the moon.  
Now that the largest generation in history is reaching retirement age and a new decade is just beginning, let's look back at how technology in the 2010s has redefined and revolutionized the senior living lifestyle with communication, wellness, and care.
Instant Communication
There will always be speculation as to whether our advancements in technology are truly a help or a hindrance in the long term, especially with communication becoming less personal every day.   
The benefits of seniors using new technology, however, are undeniable. Yes, communication feels less personal nowadays, but in senior living, the culture is truly dependent on face-to-face communication, relationship building, and personalized care.  Those fundamental aspects will likely never fade.  With this in mind, we invite the accessibility of easier communication that technology has given us and we work to adapt and engrain that accessibility into our community, enabling our residents to receive these benefits and welcome the changes with open arms. 
For example, many senior living communities, including our own, are now able to send out mass communication regarding important updates, maintenance, or emergencies that residents need to know about with the simple click of a button.  This streamlined communication allows residents and family members alike to quickly receive information that's convenient for both the active and idle retiree, as well as the involved adult child, keeping everyone in the loop at all times.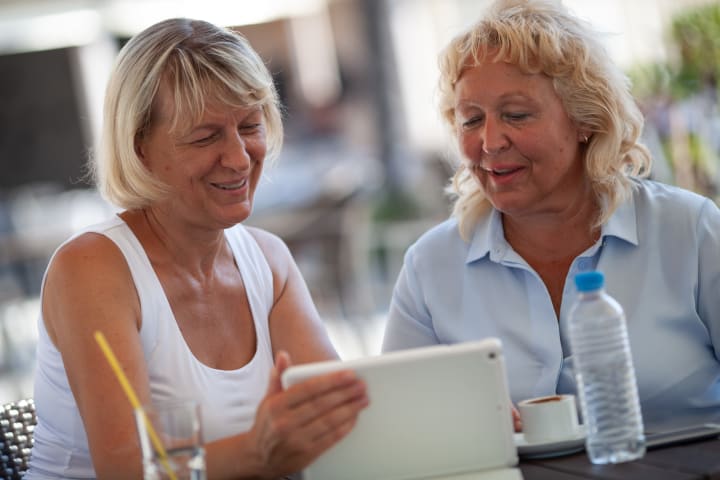 Wellness Through Activity and Exercise
In recent years, there has been a widely reported trend that seniors have begun feeling healthier, happier, and younger. This is partially due to our advancements over the decade and the many benefits it has presented to the senior population.
Throughout the last decade, we have seen a resurgence in the importance of physical and personal health. Thanks to the internet and instant communication, there is a widespread availability of information on how to improve overall wellbeing and life longevity.  
In addition, senior living communities have started providing more activities for their residents that encourage the improvement of physical well-being.  Activities and programs such as walking clubs, yoga, dance classes, and the game of pickleball, just to name a few.  Couple this with smart phone applications and devices that allow users to monitor their health statistics, and the end result is happier, healthier, and energetic seniors. 65 years young never looked so good!
Care
Perhaps the aspect of senior life most positively impacted by recent technological innovations is health care, as new technologies offer our residents a peace of mind they've never had before. New technology lets users relay information quickly, stay connected to their homes, and simplify day to day tasks, allowing them more time to do what they love with the people they love more. 
Additionally, thanks to the rapid advancement of technology in the last decade, nurses and medical staff are now more equipped than ever to provide residents with quick and accurate assessments, meeting their needs faster and providing help quicker. 
For instance, we offer CISCOR pendants to all of our independent living residents. If a resident has a fall somewhere on-site, they simply have to press the button on their pendant to pinpoint their exact location and send out an alert for help, which will arrive in mere minutes. Meaning, even in independent living, our residents can enjoy an extra layer of safety and security that only technology can provide.
At our assisted living communities, It's Never 2 Late (iN2L) and Accushield technologies help enrich the lives of our residents as well. From extended care to skilled nursing, iN2L is a software that can help with all kinds of therapeutic services to help keep seniors' memory and cognitive skills sharp. 
Accushield, on the other hand, is a visitor check-in system that we use at all of our assisted living communities to keep track of who is coming and going, to enhance our campuses' safety and security. It's through programs like these that we helping advanced our residents' lifestyles through the growth of technology.
Overall, the last ten years brought many changes, and thankfully a majority of them were positive! New technology has changed the way seniors live and allowed them to feel younger, and senior living campuses are undergoing a shift that may soon result in completely new styles of retirement.
While prohibition definitely isn't coming back (thankfully), we can say with confidence that overall senior wellness is. As we reign in the new decade, we can go forward with excited and hopeful hearts to see how senior living will continue to change for the better in the New Roaring 20s part 2.